Dear MSCS School Parents and Guardians,
As you know, our teachers, school staff and administrators have worked their hardest in difficult circumstances to teach our kids. It is time to show how much we appreciate them with a personal tribute and a yard sign.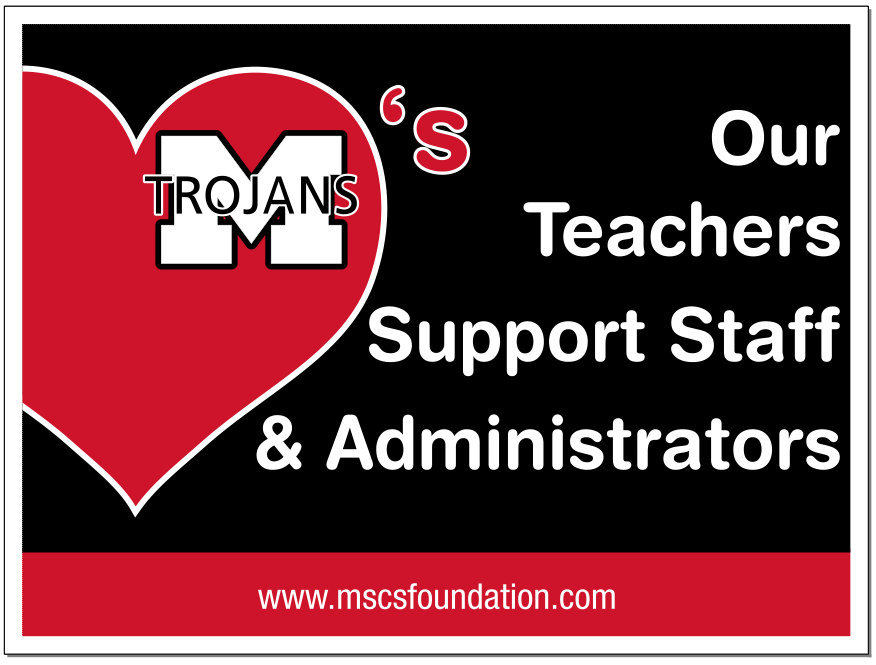 To show your support, follow these steps:
1.  Order a yard sign or more below. Pay by Credit Card or Bank Account at the checkout.
or
Mail a check to Muscle Shoals Education Foundation:
3200 South Wilson Dam Road
Muscle Shoals, AL  35661
2.   The checkout has opportunity for a tribute and donation. Leave a tribute or or email your tribute to ksasser@mscs.k12.al.us.  
Example Tribute:  The John Smith Family honors all MSCS Employees- Thanks for what you do for MSCS or John Smith honors Sally Smith-Thanks for being an awesome teacher.
3.    You do not have to make each donation separately. You can donate $100 at once and complete four tributes.
4.    Muscle Shoals Education Foundation Board Members will deliver your tribute and yard sign to the school employee.
5.    Yard signs will be delivered starting May 1, 2020.

Since school spring events were cancelled, there will not be as much funding from PTO groups to support each school. Your gift is very important in helping the Foundation fund classroom grants in 2020-2021 school year.  
These are extraordinary times however; we have extraordinary teachers, school staff, and administrators.
Thank you for your gift and showing your appreciation to Muscle Shoals City School Employees.