2018-2019 Foundation Board Members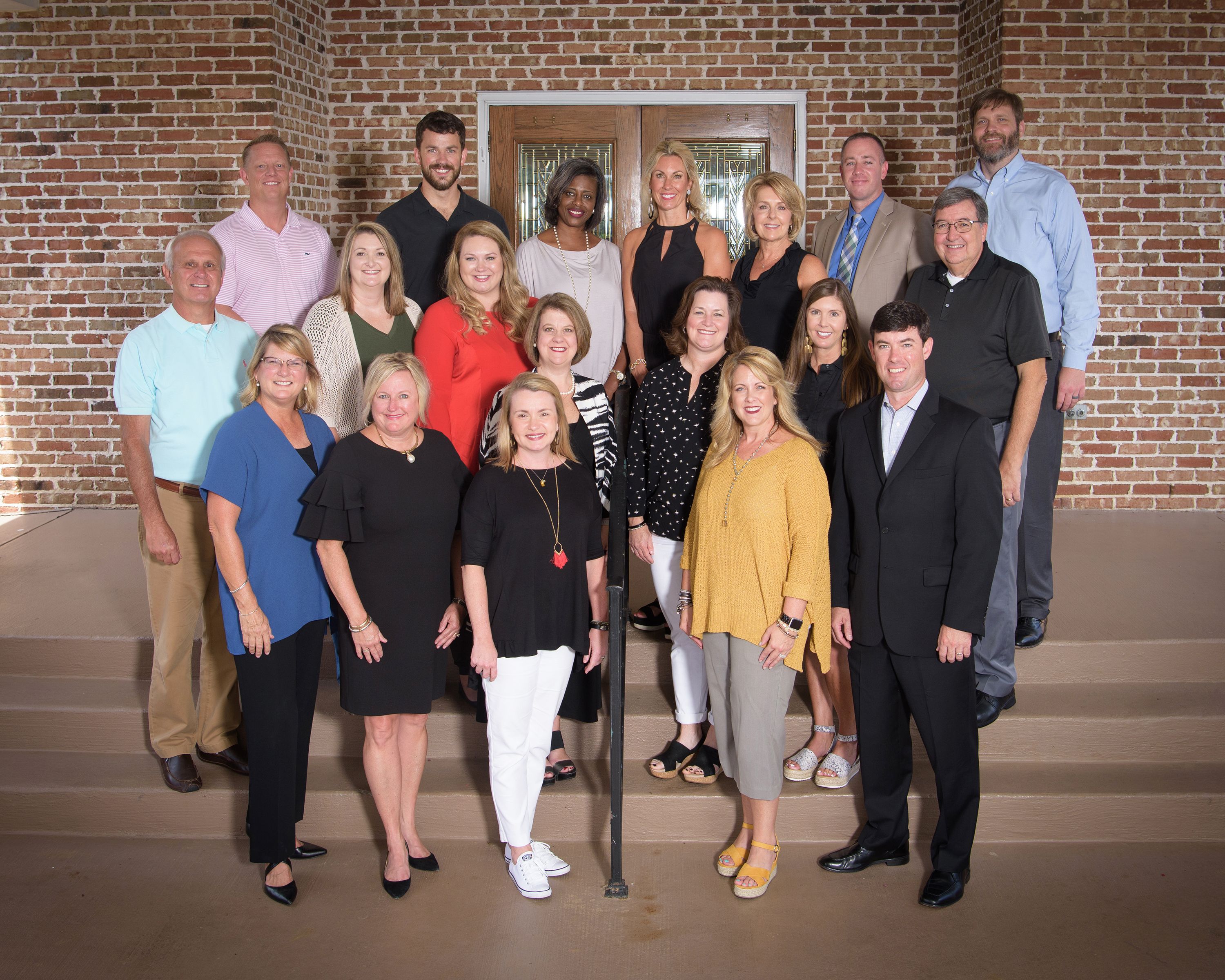 Karran Sasser

I have been fortunate to work as the Part-Time Director, Muscle Shoals Education Foundation since July 2014. I graduated from the University of North Alabama in 1988 with a Bachelor of Social Work. I am married to Tim we have two children Sarah Kate (20) and Luke (7th grade). We have been members of Highland Park Baptist Church for seven years. I absolutely love my job and know it is an honor to help make a difference in education.
It is my goal to make Muscle Shoals City School classrooms and students the best they can be by developing fundraising activities and soliciting donations. Benjamin Franklin said it the best...."An Investment in Knowledge Pays The Best Interest."

Stephanie Saylor

Stephanie Saylor, MSEF Board President is married to John Saylor and they have two children, Ellie and Crawford Saylor. Stephanie
is a two time graduate of the University of North Alabama with degrees in business (1994) and education (2000).
During her time at U.N.A. she was a lionette in The Pride of Dixie Marching Band.
Stephanie has been in Radio Advertising sales since 2000 and is also a realtor with Coldwell Banker
Elite Properties in Killen, Alabama. Stephanie and her family love the Muscle Shoals City School system
and are proud to be a part of such a wonderful community.

Melissa Medlin

Melissa Medlin. MSEF Vice- President has been a higher education professional for over 20 years and is the current Vice President for the Muscle Shoals Education Foundation after having served as a board member for two years. Melissa grew up in Russellville, and she and her husband James have been residents of Muscle Shoals for ten years. They have two children, Tucker (17) a senior and Heather (14) a freshman who are both very active at MSHS. Melissa is a member of the Muscle Shoals Trojan Band Boosters organization, and the Muscle Shoals Optimist Club. Her family attends and are members of Grace Life Church of the Shoals where she is a member of the Adult Choir and Praise Team.

Allison Mefford

Allison Mefford, MSEF Board Secretary Married to Russell Mefford, 2 boys age 11 and 8.
Works at Northwest Shoals Community College in adult education
Graduate of MSHS 95, UNA 2000, and University of Alabama 2012 have served on Webster Elementary and McBride Elementary PTO

Dustin Rhodes

Dustin Rhodes, MSEF Board Treasurer Vice President – Sales officer at Bank Independent. Graduate of Muscle Shoals High School and UNA. Wife is Heather Rhodes, a Finance Professor at UNA. I am an Ambassador for The Shoals Chamber of Commerce, a UNA Sportsman's Club Board Member, a member of the Florence Rotary Club, and a member of the NACOLG Revolving Loan Fund Committee.

Lauren Boston

Lauren Boston graduated from the University of North Alabama with a Bachelor of Business Administration in 2008. Lauren is married to Justin Boston and they reside in Muscle Shoals with their three children, Livi Jo, John Charles and Jackson. Livi Jo is 7th grader at MSMS and John Charles and Jackson are future students of MSCS. Lauren and her family have been members of Highland Park Baptist Church since 2015. Lauren is the Executive Assistant and Marketing Coordinator for United Treating and Distribution and enjoys being an active member of the Muscle Shoals Community.

Terry Copley

Terry Copley is a retired Chemical Engineer and a native of West Virginia. Throughout Terry's career he managed manufacturing plants in Alabama and Florida, and managed the construction of chemical plants in the Southeast. Terry and his wife, Marybeth, have lived in Muscle Shoals for 28 years and have three children, all of which attended Muscle Shoals City Schools. Terry has four grandchildren, which three are currently in the Muscle Shoals School System

Clint Garrett

Clint Garrett Lifelong resident of Muscle Shoals. Graduated from MSHS in 1996. I completed my undergraduate degree in Banking and Finance at Miss State University in 2000. In 2010, I completed the MBA program at UNA. I'm married to Robyn Garrett, guidance counselor at MSHS, and we have 2 daughters in the Muscle Shoals School System. Ella is in the 6th grade at MSMS and Lilly is in 5th grade at McBride. I've worked in the banking industry for over 20 years and I'm currently a commercial lender with FirstBank in Florence.

Will King

Will King native of the Shoals. He attended Muscle Shoals High School, where he was a linebacker for the Trojan football team and served as the Student Council President. After graduation, he moved to Birmingham and married his wife, Brooke. He became a professional firefighter/paramedic in 2007 and continued on to graduate from Athens State University with a Bachelor's in Public Safety and Health Administration. In 2018, he left the fire service and went full time into growing his custom home building company, High Cotton Homes. He and his wife Brooke currently live in Tuscumbia with their 2-year-old daughter, Everly.

Mike Lockhart

Mike Lockhart – I am the Director of Support Services at Helen Keller Hospital where I have been employed since 1993. I am married to Cheryl Lockhart, Instructional Partner at McBride Elementary School. We are active members of Church of The Highlands Shoals Campus. We have two children, Aaron and Mckenzie, who are both graduates of Muscle Shoals High School. I also am currently serving my second term on the Muscle Shoals City Council and also serve as a member of committees at both the state and national level for the State and National League of Cities. During my free time I enjoy spending time with my family-which of course includes our two dogs Clooney and Pfieffer.

Melissa Mosley

Melissa Mosley is a lifelong resident of the Shoals area. Melissa is married to husband Derrick and they have four amazing boys. Seth(15) Luke (13) Sawyer (10) Miller (2)
Melissa is a graduate from The University of Alabama and is currently employed as a Registered Nurse with Helen Keller and Athens Limestone hospitals.
Our family is very excited and thankful to be a part of the Muscle Shoals faMily. Go Trojans!!!

Melody Ray

Melody Ray is wife to Mark Ray and mother to Noah Ray (12) and Ethan Ray (10). Melody graduated from Hardin County High School in 1992. She attended the University of North Alabama and graduated magna cum laude with a BSN in 1996. She worked in the cardiac care unit for 4 years before joining Mark in running the family business Avalon Discount Drugs. Mark and she love being able to help the community through their local business. Melody loves watching her 2 sons play baseball and basketball.

David Reed

David Reed, MSEF Past-Board President Graduated from the University of Alabama in 1999 with a Bachelor of Science in Commerce and Business Administration. I met Hope at the University and we got married in the spring of 2000. I started with State Farm Insurance and Financial Services in 1999 and have been an Agent since September of 2008. Hope and I have 3 children in the Muscle Shoals City Schools…. Aliee (11th Grade), Graham (8th Grade) and Addison (6thGrade). Family is very important to us, but more important is our faith in our Lord and Savior Jesus Christ. We have been members of Highland Park Baptist church for 10 years now and have seen each of children baptized there. We enjoy serving there, in our school system and in our community.

Lisa Ruggles

Lisa Reid Ruggles is a graduate of MSHS 1981 and UNA Graduate 1985
Former Director of Community Relations and Marketing - Helen Keller Hospital

Member 1st Presbyterian Church - Tuscumbia
Husband - Doug Ruggles, President Martin Inc.
Children - Hanna Ruggles - 2012 MSHS Grad - (special needs daughter)
Reid Ruggles - 2014 MSHS Grad, 2018 UA Grad (Married to Hannah Roberts Ruggles - 2013 MSHS Grad, 2017 UA Grad)

Jason Simmons

Jason Simmons is the principal at Webster Elementary School. He graduated from Muscle Shoals High School in 1993. He has worked in the Muscle Shoals City School system for the past eleven years. Jason has served on the Muscle Shoals Education Foundation Board for the past three years. He and his wife Anna have four children that are involved in many school activities. GO TROJANS!!

Jenny Strickland

Jenny Noles Strickland Graduated from Muscle Shoals High School in 2000 and attended The University of North Alabama. I met my husband Hayden, also a MSHS graduate while in school and we have raised our family in the Shoals. We have 2 daughters, Abby (Class of 2018) and Samantha (Class of 2024). I love this city and enjoy the opportunity to be involved with the community through the education foundation.

Rebecca Tedder

Rebecca Tedder is a 1991 graduate of Muscle Shoals High School and a 1996 graduate of the University of North Alabama.
I currently work with the University's Pride of Dixie band auxiliaries as a trainer. I am also employed at Health and Fitness Unlimited as a personal trainer and group fitness director. I have 3 children, Ethan, Evan, and Gracie. They are students in the Muscle Shoals City School system. I am married to Eric Tedder.

Willis Thompson

Willis Thompson is the President of the Muscle Shoals City School Board. Willis retired from TVA with 38 years of service. Willis is married to Shirley Thompson. Their son, Christian Thompson is a Muscle Shoals High School and Auburn Graduate.

Traci Thornton

Traci Thornton is a third year member of the Muscle Shoals Education
Foundation. She is currently the Purchasing Director for Whitesell Corporation
with 34 years of experience in various Supply Chain positions.
Traci is a graduate of Muscle Shoals High School and earned a B.S. in
Management from the University of North Alabama.
Traci and her husband Dale reside in Muscle Shoals and have two children,
Lauren and Seth. They are also graduates of Muscle Shoals High School.